Chemical analysis
A diverse range of routine and bespoke inorganic and organic analyses.
Sector: Aquaculture, Extractive Industries, The Environment
The chemical analysis team supplies a wide range of professional and high-quality analytical services to multiple industries and sectors including research, energy, food and drink, cosmetics, healthcare, construction and environmental monitoring. Techniques range widely from standard to more specialised for problematic sample types and the chemistry used in these analyses can qualify and quantify organic and inorganic contaminants/pollutants in a variety of matrices.
Utilising a variety of digestion and extraction techniques, including aqua regia, microwave digestion and lithium metaborate fusion, the team can routinely analyse a variety of sample types, including, but not exclusively:
Waters (natural, waste and produced), plant materials, soils, seaweeds, sediments, sludges, oils (energy and food products), rocks, bread and flour, alcohol, cosmetics and pharmaceuticals.
With the capabilities to carry out a wide range of inorganic and organic analyses tailored to specific requirements, the laboratory can also advise on statistical sampling strategies and provide data interpretation in relation to regulatory limits and toxicity.
Techniques
Gas Chromatography - Mass Spectrometry (GC-MS)
Gas Chromatography - Mass Spectrometry - Mass Spectrometry (

GC-MS/MS)

Gas Chromatography - Flame Ionisation Detector (GC-FID)
High Performance Liquid Chromatography (HPLC)
Inductively Couple Plasma – Optical Emission Spectroscopy (ICP-OES)
Inductively Couple Plasma – Mass Spectroscopy (ICP-MS)
Low Level Mercury Analysis
Ion Chromatography (IC), Discrete Analyser, Total Organic Carbon

Spectrophotometer (including HACH)

Alkalinity

Volatile Fatty Acids (VFAs)

Sulphur Dioxide

Methanol & Ethanol

Residual Solvents

Specific gravity / conductivity / pH / turbidity

Total Dissolved Solids / Total Suspended Solids
There are also numerous bench chemistry techniques available including spectrophotometry, titrations, chromium speciation, Monier Williams method, ion specific electrometric techniques and Karl Fisher titration.
Specific Analyses
Major inorganic anions such as Fluoride (F-), Chloride (Cl-), Bromide (Br-), Nitrate (NO3- ) and Sulphate (SO42-)
Total Inorganic/Organic Carbon (TIC/TOC) and Total Nitrogen (TN) content of water samples.
Colourimetric analysis using almost any recognised colourimetric technique to determine ammonium, soluble reactive phosphorus and total alkalinity content.
PLFA analysis to investigate the bacterial and fungal populations of soils 
Pigment composition analysis to provide information on the biomass of waters
Organic contaminants from industrial processes (e.g. PAHs, PCBs, PBDEs, POPs, EDCs) for compliance with environmental regulations.
Organic additives in foodstuffs. 
Characterisation and composition of oilfield compounds and materials. 
Full array of metal and non-metals from macro through to ultra-trace.
Essential elements and contaminants including speciation, e.g. Cr(VI) /Cr(III).
Full range of decomposition and extractions techniques of most sample types including silicates by Lithium Metaborate fusion.
COD, BOD, cyanide in waste water samples.
Accreditation
The James Hutton Institute analytical laboratories operate to the standards required by UKAS accreditation and many of our routine techniques are accredited.  A full accreditation schedule can be found at www.UKAS.com
Our ability to perform a huge variety of techniques means that in general a one-off analysis may not be accredited but our total commitment to high standards ensures it will be carried out to the exacting specifications that accreditation requires.
Contact us for further information.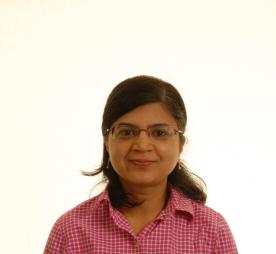 Senior Analytical Chemist

Sandhya has over 15 years' experience in the area of analytical chemistry. The main focus of her work has been in the development of analytical methodologies and assessments of organic and inorganic contaminants in different environmental compartments.