Latest News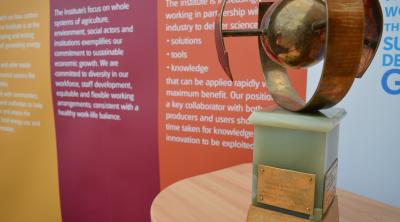 The James Hutton Institute is again looking for farmers around the country to enter samples of their soils - either organically or conventionally managed - for the Best Soil in Show 2018 competition. The winner will be announced at the Royal Highland Show 2018.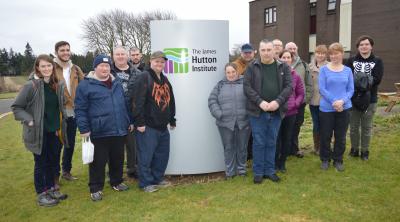 Group users of Dundee Association for Mental Health (DAMH) visited the James Hutton Institute, Invergowrie, last week to hear more about soft fruit and crop science from scientists and breeders, and about the Tayberry Seedling project.
Our Next Event

11 Jan 2018 9am - 12 Jan 2018 5pm
1931 Congrescentrum Brabanthallen
Oude Engelenseweg 1
5222 AA  's-Hertogenbosch
This annual event includes a wide range of presentations covering many different aspects of the soft fruit industry. Rubus breeder, Nikki Jennings, and our Crop Science BDM, Jamie Smith, will represent James Hutton Limited at the event and on our exhibition stand.
Twitter feed block
RT @JamesHuttonInst: @wearesnook @DerekOrd @irishboglife @JamesHuttonLtd @innovateuk @ness_wright Nothing wrong with #Dundee claiming to be…

RT @JamesHuttonInst: Just a few days left to get your entry in for #BestSoilinShow competition at @ScotlandRHShow 2018 - trophies, full soi…

Presenting the Raspberry Diaries, Ep 2! Raspberry Breeder, Nikki Jennings shows us the crossing house at… https://t.co/lQdXZKiKn6

@MirandaKido @Vivomotion @JamesHuttonInst #CropScience is one aspect of our research and innovation. We do a lot of work with soft fruit 🍓🍃

A fantastic (& rare) opportunity to become part of our small, wonderful team! Based @JamesHuttonInst we're seeking… https://t.co/klToBBN7IU

RT @JamesHuttonInst: It's #EarthDay2018, time to reflect on how to protect our planet and improve the sustainable use of land and natural r…

RT @wearesnook: Great closing meeting with @JamesHuttonInst @JamesHuttonLtd for our @innovateuk funded #TayBerry project. Exciting prospect…

#DataVis #Infographic workshop @JamesHuttonInst today with @lulupinney Lots of #Learning #Sharing #Exploring https://t.co/rxXGaDNkzK

Great to see #GlenDee #GlenCarron performing so well in trials! These will definitely be the #Raspberries you can't… https://t.co/3cgfK1Itmz

RT @JamesHuttonLtd: Bryan is off to #Oslo & #Stavanger with @ScotDevInt & @tradegovuk on a trade mission to network and promote our analyti…

Bryan is off to #Oslo & #Stavanger with @ScotDevInt & @tradegovuk on a trade mission to network and promote our ana… https://t.co/yoqSz8eJQx

RT @JamesHuttonInst: Does your #soil have what it takes to be the #BestSoilinShow at @ScotlandRHShow 2018? Time to get digging: trophies, f…