Formerly known as advanced selection 0485K-1, Glen Carron is the latest variety to be released from the James Hutton Limited raspberry breeding programme. Released in 2018. A very popular raspberry in tastings. 
Mean Berry Size:     5.3g 
Mean Brixo Level:    11.8o 
Consistent bright red colour
Very sweet fruit with low acid and pear notes
Long conic shape 
Even drupes with a high gloss
Detaches very easily from plug and quickly fills a punnet
Outstanding shelf-life
Requirements and results may differ according to location and production systems. Growing recommendations based on trials at James Hutton Institute, Dundee, Scotland.
2020 TRIAL RESULTS
Data from the James Hutton Institute demonstration plot, 10L pots, planted 2019, covered 24th June 2020.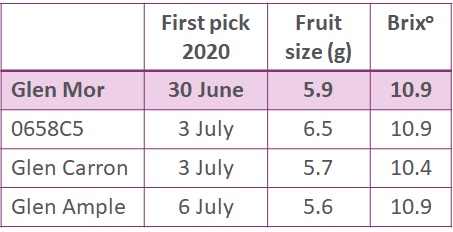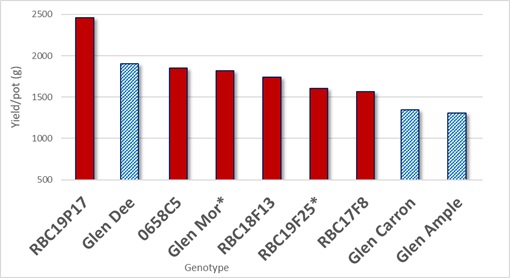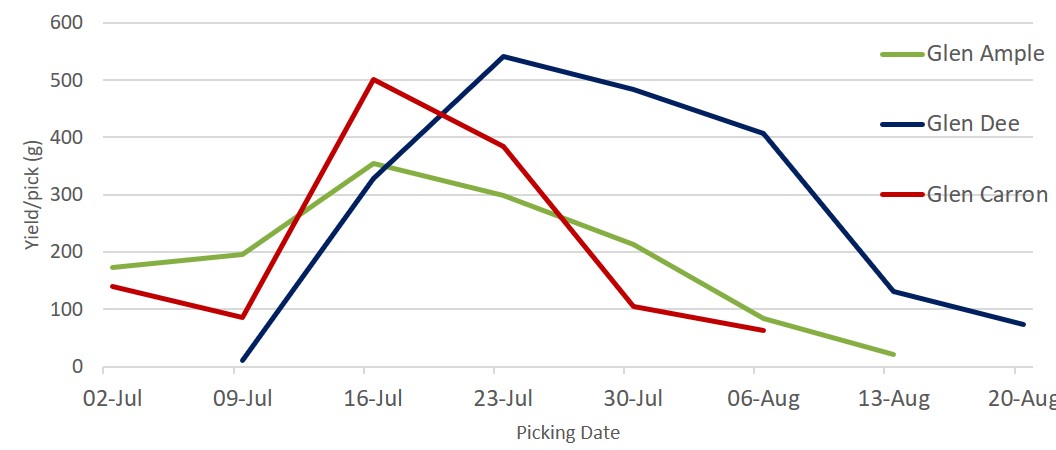 Plant
High root and cane vigour produces a high number of canes which display fruit well on strong laterals. Spine free canes are pubescent and turn pale brown in maturity.
Resistance
Gene H, gives resistance to cane botrytis and spur blight. Gene A10 confers resistance to most biotypes of raspberry aphid Amphorophora idaei.
Agronomy
Season:         Early/Mid
Cropping Period:    Early July - Early August
Picking Duration:     4 weeks 
Chill Requirement:     Min. 1200 hours
Cultivation
Suitable for open field, soil grown or substrate.
Aim for 10,000 plants per Ha.  60cm short cane, 40cm long cane.
Trial results*
| | | | | |
| --- | --- | --- | --- | --- |
|   | Mean Yield (g) | Mean Fruit Size | Mean Brixo | First Pick Date |
| Glen Carron | 1441 | 5.4 | 10.4 | 27 July |
| Glen Ample | 2301.1 | 5.4 | 9.5 | 20 July |
| Tulameen | 1278.5 | 4.8 | 10.7 | 23 July |
| Octavia | 1911.4 | 5.6 | 8.6 | 29 July |
* Data taken from breeding plots in 2015