Latest News
Kicking off the year with two major events in our soft fruit calendar - International Soft Fruit Conference in January and Fruit Logistica in February.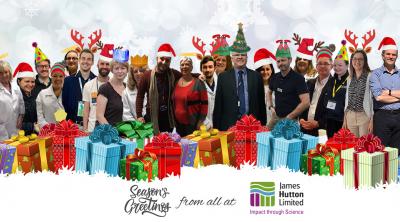 2019 has been a truly whirlwind year for James Hutton Limited.
Our Next Event

19 May 2020 12pm - 21 May 2020 3pm
Macdonald Aviemore Resort,
Aviemore,
Inverness-shire,
PH22 1PN
James Hutton Limited will be exhibiting at Aquaculture UK for the first time in 2020, sharing the many services we can offer to the industry.
Twitter feed block
We're very excited to be dipping our toes into new 🌊 and exhibiting @AquacultureUK this year. What do we have to of… https://t.co/wF69S3hmg1

We were delighted to welcome @MDS_Updates Saffy & @ChristineTacon to visit our trainee @AlexBenakis today, finding… https://t.co/fhlzVrrhyb

Climate positive ✔️ Scottish ✔️ Gin ✔️ Well done to all involved, we can't wait to give it a try! https://t.co/gwwrO6DvDI

RT @CCampbellHutton: Delighted to be attending the @THunterF dinner with Sir David Attenborough. Sir David has been saying we need to do so…

RT @JamesHuttonInst: "While future scenarios for rainfall and runoff are highly uncertain, there's less doubt that the future has greater v…

RT @LibertyProduce: @STVNews swung by the @LibertyProduce @CHAP_Enquiries #verticalfarm at @JamesHuttonInst for a tour with our very own D…

@stewartwaine @JamesHuttonInst @NikkiJe69412851 Scots for big/large/great & it certainly is!

@stewartwaine @JamesHuttonInst @NikkiJe69412851 Glen Mor (provisional name). A Phytophthora resistant floricane, go… https://t.co/pLVzDlFE92

Great news for our @MDS_Updates trainee. The winner will be announced in April. Good luck @AlexBenakis! 💫🏆🤞 https://t.co/ahs8riM328

RT @bulgarelli_d: https://t.co/YvAkIZXi2A register today: we have a terrific line-up of keynotes and up to 25 slots for selected abstract p…

@IntelligentGS @KPMGTechGrowth Best of luck! 🍀🤞