Latest News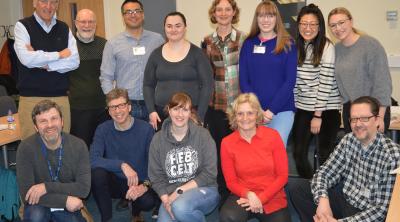 James Hutton Limited's annual Fatty Acids and Lipids course took place last week at the James Hutton Institute in Dundee. Nine delegates came from businesses including Friesland Campina, New Holland Extraction, Imperial Oil, BASF, University of Reading and from as far away as TASA in Peru.
James Hutton Limited is recruiting an analytical chemist to support commercial work in the James Hutton Institute labs.
Our Next Event
James Hutton Limited is hosting an event to promote participation in the Water Test Network (WTN), an Interreg North West Europe ERDF project, which aims to support and enable SMEs developing new technologies and solutions for the water industry with vouchers to support the cost of testing and validation, allowing a quicker route to market.
Twitter feed block
RT @WaterNetwork_EU: Currently at the @Aqua_Rio_EH... A pitch on the #WaterTestNetwork. Interested to learn more? Our advisor Stefan can be…

RT @CREW_waters: Join our World Water Day Event in Edinburgh this Friday! We have a few extra tickets - make sure you register before the l…

RT @BioDundee: The @BioDundee Pitch Perfect Competition is now open. Find out more about the competition by reading our recent newsletter:…

RT @ParklandPotato: Diet and wellness trend: Why the humble potato could become the next superfood https://t.co/LwiBApQDzD via @potatonewst…

#IncaBella a specialist #Phureja variety with rich nutty flavour #Gemson multipurpose - ideal for #salads #boiling… https://t.co/I7jjQnEu2m

RT @JamesHuttonInst: Farmers: can you dig it? Yes you can! If you work hard to ensure your #soil is healthy, then it could be a candidate f…

RT @MycoNourish: Converge Challenge is an amazing experience for aspiring entrepreneurs and businesses. Applications for 2019 are open now!…

RT @BarleyPlanet: Thanks to those that have already contributed to @IntBarleyHub survey of issues in barley breeding. We will close it at t…

RT @DorotaJarret: Roguing (id & removing plants with undesirable characteristics) is one of the most essential methods in minimising gall m…

For #SMEs developing water tech & services in #NorthWestEurope, checking out @WaterNetwork_EU is a must! 👀🌊 https://t.co/gF0WU7NvbG

200 delegates from the #Norwiegan #SoftFruit & #Berry industry are in for a treat tomorrow! Our #Raspberry breeder… https://t.co/gsjRQnHPg7

RT @JamesHuttonInst: Lipids are an essential element in #foodanddrink, #health & #biosciences, and play a fundamental role in biological fu…