Latest News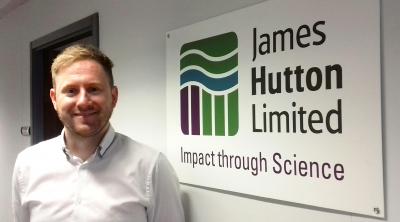 The James Hutton Limited team welcomed Ross Urquhart to the role of Project Associate in early June.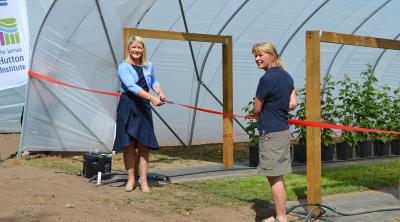 James Hutton Limited launched new raspberry demonstration tunnels at Fruit for the Future, the James Hutton Institute's annual soft fruit-themed event, on Thursday 19 July 2018. The tunnels were officially opened by Kirstene Hair, MP for Angus.
Our Next Event

12 Sep 2018 9am - 13 Sep 2018 6pm
James Hutton Limited is a regular at this gathering for the global potato industry. We will be showcasing the potato science at James Hutton Institute alongside James Hutton Limited breeding programmes and licensed varieties. We are on the AHDB stand which is ZC11 in the Tent Hall.
To arrange a meeting with James Hutton Limited during Potato Europe, please contact us. 
We will join the AHDB stand at Potato Europe in Rittergut Bockerode near Springe, Germany, to showcase our potato science, breeding programmes and licensed varieties.
Twitter feed block
RT @SeedCrop: Read all about it! The @CropTrust teams up with the @JamesHuttonInst to ensure the @CropWildRelativ project's pre-breeding da…

RT @PotatoHutton: Drummond Todd from @JamesHuttonLtd explaining breeding activities to the public #PotatoesinPractice @JamesHuttonInst htt…

RT @FarmersOfTheUK: Looking to license plant varieties? @JamesHuttonLtd manages an extensive portfolio of more than 40 plant varieties incl…

RT @JamesHuttonInst: Huge thanks to everyone who came to our Dundee site yesterday to take part in #FruitfortheFuture 2018, our soft fruit…

We've been really busy with #SoftFruit event activity over the last week. Check it out here -->… https://t.co/utY9eU5VZY

The end of a very fruitful week #FruitfortheFuture #FruitFocus18 Time to head home from the fantastic @FruitFocus T… https://t.co/h9spmwcD9p

RT @JamesHuttonInst: What kind of future awaits the humble spud? #PotatoesInPractice 2018, the UK's largest field-based potato event, looks…

Beautiful weather & beautiful #Raspberries @FruitFocus We're at stand 14 #FruitFocus18 @HuttonCMS @NikkiJe69412851 https://t.co/U199ryU8kU

Arrived at #FruitFocus18 with @NikkiJe69412851 & @HuttonCMS We're on stand 14 tomorrow. See you there? https://t.co/Uyjw54K3VX

We'll be on stand 14 @FruitFocus tomorrow showing off #Raspberry samples and #CropScience services with some cracki… https://t.co/fyzx8QE9Li

RT @JamesHuttonInst: Come and see tatties from the Commonwealth Potato Collection @PotatoHutton @HuttonCMS @HuttonICS in this #ProtectingPo…

RT @Kirstene4Angus: A pleasure to officially open the new demo tunnels at @JamesHuttonInst & promote the 2 exciting new varieties of raspbe…