Environmental Technology Verification (ETV)
Environmental Technology Verification is an International Standard (BS EN ISO 14034) developed with the objective of providing credible, reliable and independent verification of environmental technologies
Sector: Aquaculture, The Environment
WHAT IS ETV?
Environmental Technology Verification is an International Standard (BS EN ISO 14034) developed with the objective of providing credible, reliable and independent verification of environmental technologies which have an impact or added value for the environment. Addressing such issues and challenges is increasingly important for achieving sustainable development.
James Hutton Limited are the only UK based organisation to offer ETV reports on water treatment, waste water treatment and associated measurement technologies.
For more information on ETV please view the following presentation
WHO NEEDS THIS SERVICE?
For technology producers, ETV provides credibility and assurance on their products and claims while for purchasers, it guarantees selection of the best fitted eco-technology and helps determine the performance of the eco-technology in accordance with policies and regulations. Gaining an international standard will enable increased trade in an international market, reduce the duplication of testing data, enhance the usage of innovations to respond to climate change and global environmental challenges and ensure the continued collaboration on the development of future international technologies.
For further information, please view the attached or get in contact.
"Partnering with Scottish Water and James Hutton Limited as part of the Water Test Network has allowed Aquamonitrix Ltd to achieve ISO14034 accreditation in an efficient and time effective way by tapping into to expertise from the partners.  There is no doubt that having the accreditation will help accelerate the use of the product in the marketplace"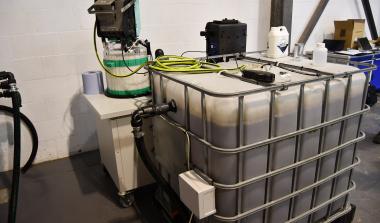 (green bands) taking samples for monitoring equipment (black box)
ETV STATEMENT OF VERIFICATION
| NAME | COMPANY NAME | EMAIL |
| --- | --- | --- |
| | T.E Laboratories | |
|   |   |   |