6th International Blackcurrant Conference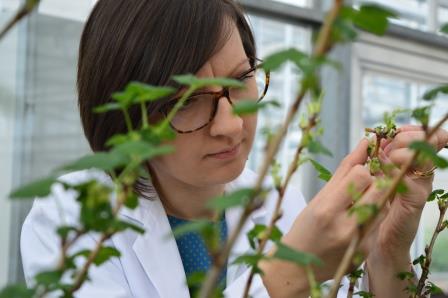 James Hutton Limited's, Dr Dorota Jarret, will speak at the 6th International Blackcurrant Conference which takes place in Angers, France, from the 6th to the 8th June 2018.
The gathering of the world's blackcurrant community is arranged biennially by the International Blackcurrant Association (IBA).  The IBA consists of blackcurrant growers, processors, researchers and breeders from all around the globe who come together to build positive relationships between the blackcurrant growing countries of the world and to nurture ongoing partnerships. Around 150 delegates are expected to attend the conference.
Dr Jarret leads one of the world's largest blackcurrant breeding programmes, exclusively for LR Suntory (LRS), producers of Ribena.  The programme is supported by the genetic research on blackcurrants carried out at the James Hutton Institute.  She will give two presentations over the three days, the first focusing on the importance of sustainability in blackcurrant breeding and how challenges from the modern environment (including droughts, changing climates, pests and diseases) and from the modern consumer (flavour and colour requirements, and sensory nostalgia), are being met by James Hutton Limited in relation to general adaptation to the UK climate and the development of new cultivars.  This presentation will also reveal three potential new releases for LRS growers which will offer improved yield, quality and flavour to the blackcurrant portfolio.
The second presentation will provide an update on 'GoodBerry', a project funded by the European Union's Horizon 2020 research and innovation programme.  GoodBerry is a collaboration of 19 institutions from Europe, Chile and China, which aims to gain further knowledge of procedures that can facilitate and accelerate the development of well-accepted, desirable and high-quality berry fruits – even under non-favourable growth conditions. Dr Jarret will provide the conference with a year one update on the blackcurrant cultivars in the project, discussing flower initiation and growth and the impact of different fertigation regimes.
In anticipation of the event, Dr Jarret said, "It's essential for James Hutton Limited and the Institute to attend this conference. It's an excellent opportunity to share and learn with our blackcurrant peers. While we can talk about the research and developments in our work, it's fantastic to be able to hear first-hand from others, discuss our ideas and plan for the future of the global blackcurrant industry as collaboration is the key to many successes."
The conference also includes field trips, workshops, a gala dinner and a blackcurrant product competition.  More information on the James Hutton Limited blackcurrant breeding programme and varieties is available here. And further details of the International Blackcurrant Association conference are available here.