Converge 2021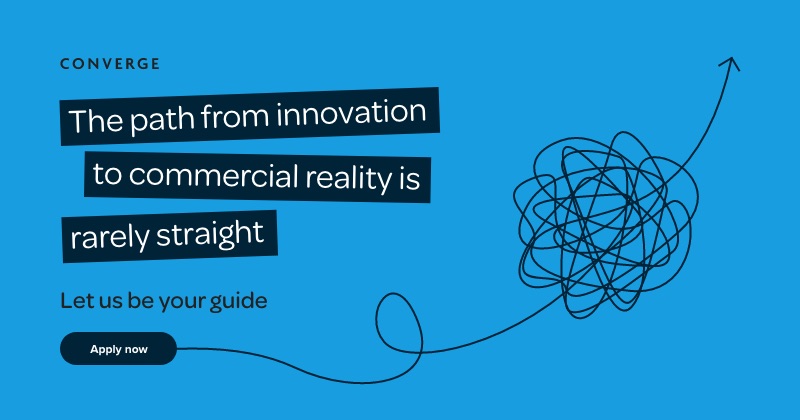 Applications are Now Open for Converge! Scotland's Springboard for Academic Entrepreneurs! 
INNOVATION FROM SCOTLAND'S UNIVERSITY ENTREPRENEURS WILL HELP RESHAPE OUR POST PANDEMIC WORLD
•    Converge launches its search for Scotland's 'Class of '21' – cohort of new university entrepreneurs
•    Overall prize pot rises to £290k – up £50k on last year
•    Cisco launches new 'Future Tech Award' to support innovation
Against the backdrop of the ongoing Covid-19 pandemic, Converge, the largest company creation programme for Scotland's Higher Education Sector, has launched its 2021 quest to find the country's most dynamic and creative thinkers – individuals who are developing ideas with the potential to be transformed into sustainable businesses.
As was the case last year, this year's Converge will show the resilience, spark and creative flair of Scotland's academic community, where not even the pandemic can deter those with an eye for innovation and skill for entrepreneurship.
All 18 Scottish universities continue to provide the financial support for Converge, together with financial backing from the Scottish Funding Council and Creative Scotland. The roster of sponsors and partners which includes the Royal Bank of Scotland, Social Investment Scotland, BeyondHR, i4 Product Design, MBM Commercial and Murgitroyd, will this year be joined by two new organisations - global technology leader, Cisco and CPI Enterprises.
Converge is launching an additional award this year, the Future Tech Award, sponsored by Cisco. The prize will support innovation in areas such as AI, machine learning and cloud security.  
 
This new prize will sit alongside the Royal Bank of Scotland-sponsored Rose Award which was introduced last year in a bid to boost female entrepreneurship in Scotland. Presented to an aspiring female founder from this year's Converge cohort, the prize includes a one-to-one mentoring session with the Bank's Chief Executive, Alison Rose.
Both Awards will be made to individuals drawn from the Converge, Impact and Creative Challenge cohorts, and will consist of substantial cash prizes and invaluable in-kind support from the partners' network.
Thanks to the increased support from the Converge partners, the programme will also offer smaller cash prizes to the finalists in all four categories, providing a much-needed boost to progress their business endeavours.
Paul Atkinson, Chairman of the Converge Strategic Advisory Board comments, that whilst we are living through extraordinary times and campuses are mainly in lockdown, the making of an entrepreneur lies in the unerring ability to overcome any obstacle and push on regardless.
At last year's 'virtual' Converge 2020 final held in September, Scotland's First Minister, Nicola Sturgeon, commended Converge alumni for having established around 220 new companies since it its inception in 2011 and creating more than 500 jobs in a range of key sectors. 
She remarked that innovation through Converge is vital to Scotland's economic well-being in helping us meet some of the greatest challenges of our time which have been emphasised by the Covid-19 pandemic.
James Hutton has a history of success with Converge with DR. Peter Orrell finishing as runner up in 2018 which helped him to establish his business MycoNourish. At the end of May 2018 Peter was also winner of the Converge Challenge's 'Ready Steady Pitch' award, having just 60 seconds to present his innovative idea to a panel of experts and esteemed industry professionals. You can read more about Dr. Orrell's success here 
The final of Converge 2021 will be held on Thursday 30 September either in-person or online depending on the current circumstances.
Converge 2021 is now open. Full details and how to enter can be found at www.convergechallenge.com