2019 News Round Up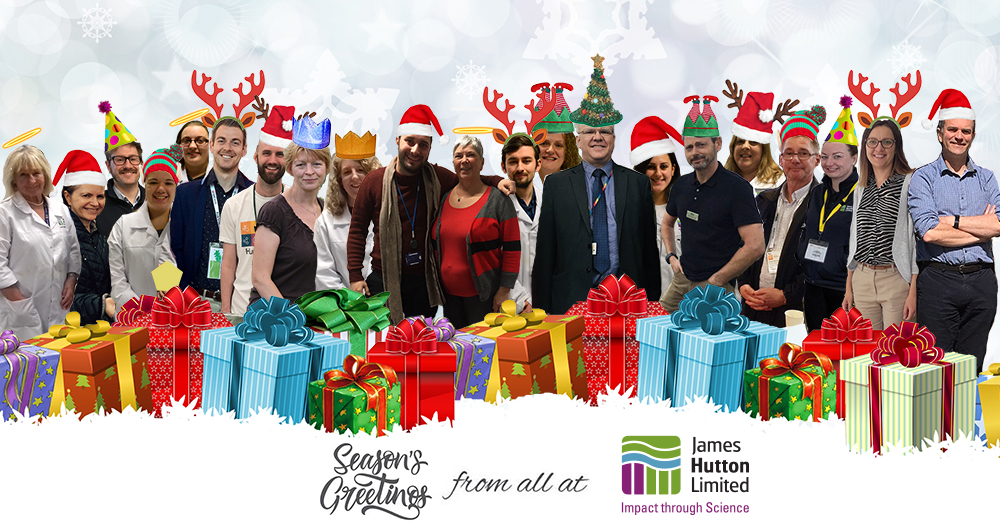 2019 has been a truly whirlwind year for James Hutton Limited. Condensing the highlights is almost impossible but we'll give it a go!  
January
The James Hutton Limited event calendar kicks off every year with a trip to 's-Hertogenbosch, the Netherlands, for the International Soft Fruit conference.  In 2019 we focussed on sharing information on our licensed raspberry varieties, particularly our newest, Glen Dee and Glen Carron. -->
An investment in several new analytical instruments to support our position as a partner laboratory in Interreg ERDF project, Water Test Network, gave the analytical team at James Hutton Institute laboratories access to a further variety of techniques to fulfil the analytical requirements of clients in the water industry - and in other industries too.
February 
Early February is our annual pilgrimage to Fruit Logistica, a huge fresh produce exhibition in Berlin, where we highlight our crop science services and licensed soft fruit and potato varieties. 
Nine delegates came to our Fatty Acid and Lipid Analysis course from businesses including Friesland Campina, New Holland Extraction, Imperial Oil, BASF, University of Reading and from as far away as TASA in Peru! -->
March 
In March, long serving, esteemed colleague, Sheena Rowbottom (now Sheena King), retired from Mylnefield Lipid Analysis. Having been a part of the business and its growth for over two decades, the team was very sorry to see Sheena go and wish her all the very best for the future!
April 
<-- In April, we held an event giving an overview of the Water Test Network project.  The event gave information and advice on how the project supports SMEs with new water innovations.
We also welcomed Rodger McGovern to the role of Business Development Manager.  Rodger is the first point of contact for customers of James Hutton Limited's analytical services. 
May
In the month of May, we joined several colleagues from the James Hutton Institute on a trip to see where some of their science ends up with a visit to the potato stores of Agrico and a local Agrico grower. 
Head of James Hutton Limited, Dr Jonathan Snape, spoke at the annual BioDundee conference, sharing plans for the Advanced Plant Growth Centre. 
June 
We enjoyed a very soggy Cereals 2019, highlighting barley research projects with a strong commercial focus.
We spoke more about cereal services and projects at the inaugural Arable Scotland. 
Our annual visit to the Royal Highland Show as part of the James Hutton Institute marquee is a great opportunity to show members of the public how we support our Institute colleagues.
James Hutton Limited was a sponsor of the 12th International Society for Horticultural Science, RUBUS & RIBES Symposium, plus we had two speakers topping the bill. Keynote, Dr Dorota Jarret, followed by Nikki Jennings, sharing information about the use of genetic tools in Rubus and Ribes breeding at James Hutton Institute/James Hutton Limited and raspberry breeding in Scotland, respectively.
<-- James Hutton Limited subsidiary, Myconourish, took home the Scottish Edge, Higgs Award for Science, Technology and Engineering focused businesses, scooping a whopping £125k for further investment.
July 
<-- The team headed down to Kent, the Garden of England, to display at Fruit Focus 2019.  Our theme was "2020 Visions", a showcase of raspberry selections planned for commercialisation next year. 
On home soil we were at the James Hutton Institute event, Fruit Focus.  Field tours included updates on our Blackberry, Blueberry and Raspberry breeding programmes. 
August 
Ross Urquhart stepped up to oversee the business's Innovate UK funded projects. There are many new projects, mainly with a crop focus, in the pipeline for kick off next year. 
At Potatoes in Practice, we provided information about the molecular diagnostic services we offer, teaming up on a display with some of our Potato@Hutton colleagues and highlighting the new dRenSeq diagnostic tool. 
We also received visits from The Chinese Academy of Agricultural Science and the Sichuan Academy for Agricultural Science. Both superb opportunities to share the agricultural work of both James Hutton Limited and the Institute. -->
September 
In September, we exhibited as part of the Scotland Pavilion at Offshore Europe, highlighting the analytical services we offer for marine sediment analysis, the decommissioning sector and of course, the oil and gas industry as a whole. -->
Business Development Manager, Jamie Smith, took part in a panel discussion at the 11th Annual Ag Innovation Showcase, Minnesota, discussing the Confluence of Food, Energy and Health in the U.K.
October 
MDS trainee, Alex Benakis, joined us in October, in the role of Marketing and Business Development Associate. During his six-month secondment, Alex is working closely with and supporting James Hutton Institute colleagues to establish commercial links for the Advanced Plant Growth Centre, as plans for the development continue apace.
We welcomed Her Excellency, Ms Linda Scott, High Commissioner of Namibia to our Dundee site. We had great discussions about work in Africa and prospects for collaboration.
November 
We announced Dr Dorota Jarret's appointment as the Chair of the International Society for Horticultural Science's (ISHS), Rubus and Ribes Species and Management working group.  Dorota, is the first female to chair the Rubus and Ribes working group and also the youngest to take up the position.  We're very proud of Dorota! -->
We joined the Water Test Network partners at Aquatech to spread the word about this fantastic, transnational network of testing facilities.  
British Potato 2019 in late November was an opportunity to connect with some our oldest potato customers as well as new crop science customers. 
December 
We've just made an investment in some new scanning electron microscopy detectors to support analyses of particulate materials in lubricating oils - more about this next year!
As the year draws to a close, we're not slowing down at all.  We're gathering data, analysing, compiling information and putting together plans for how we might make 2020 another superb year – let's hope it goes a little bit more slowly than this one! 
Wishing all of our customers, collaborators and friends an excellent festive season, from all at James Hutton Limited.