ORETO Tests and Trials
Official Recognition of Efficacy Testing [Facilities or] Organisations
Sector: Crop Science
The James Hutton Institute and James Hutton Limited renewed ORETO (Official Recognition of Efficacy Testing [Facilities or] Organisations) certification in early 2020. 
ORETO certification grants James Hutton Limited the ability to supply the UK's highest accredited tests and trials to support product development, marketing and registration of new agrichemical products that claim plant/produce protection or nutrition including pesticides, herbicides, fungicides, insecticides, nematicides, adjuvants, root stimulants and mycorrhizae. 
Trialling in the form of laboratory, glasshouse and field trials, carried out at the James Hutton Institute can be used to secure chemical approval from the Chemicals Regulation Division for newly developed products or formulation, or for organisations seeking to launch their products in new markets or territories including the UK.
Whatever the test or the product, James Hutton Limited offers independent results from a globally recognised crop research institute.
---
EXPERTISE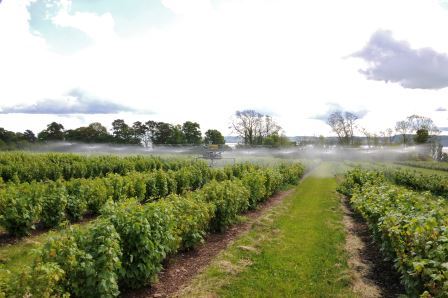 As an institute with expertise comprising several, specialist, crop science disciplines and a collaborative approach to research, trials at the James Hutton Institute offer a broad scope for efficacy testing.
James Hutton Limited has achieved official recognition for:
Agricultural/Horticultural trials/tests
Stored Crop trials/tests
Biological Agents and Semiochemical trials/tests
Not only is the James Hutton Institute a world leader in crop science, scientists and researchers also have extensive experience in collaborating with commercial organisations - both the Institute and James Hutton Limited have dedicated project management teams.  Trials can be carried out to commercial practice protocol and can take place in simulated commercial conditions, while ensuring that EPPO guidelines are adhered to.
James Hutton Institute expertise lies specifically with barley, potato and soft fruit crops, and there is an opportunity to utilise existing crops as well as establishing target crops for research.
---
FACILITIES
Facilities at the James Hutton Institute offer the capacity to deliver a full range of efficacy testing from initial laboratory analysis, to intensive glass house testing, to large scale field trials. 
There is around 270 ha of arable land available to conduct a wide range of agricultural, horticultural and environmental trials.  An expert service is provided for land preparation, sowing, drilling, harvest and clearance of residues. 
The James Hutton Institute site in Invergowrie, Dundee, has 137 individual glasshouse compartments, ranging in size from 12.5m2 to 325m2 and in specification from unheated, unlit cold glasshouses to sophisticated heated, lit containment glasshouses, with computer-controlled set-points, and associated laboratories.
There are also 42 plant growth cabinets, 15 plant growth rooms, 19 cold stores, 29 polytunnels and a 1200m2 standing-out-ground area plus well-equipped laboratory space for the preparation of experimental materials and/or the assessment of sampled materials.